Steve Jaffe Talks about Mediation by Zoom with Daily Business Review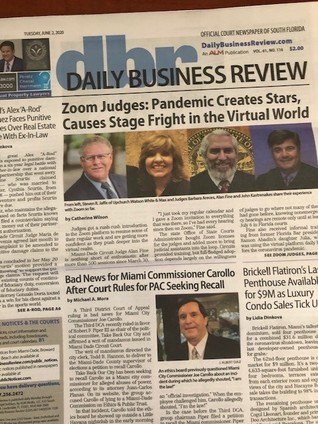 Recently, Daily Business Review writer and editor Catherine Wilson asked a UWWM panel member, Steven R. Jaffe, to comment for her article titled "Zoom Judges: Stars and Stage Fright in the Virtual World," in which she tells the story of some judges and mediators who "made quick jumps into the Zoom world, racking up dozens and even hundreds of remote hearings. They talk about their virtual work, video surprises like a leaping cat and background screen choices."
Steve told the DBR his last in-person mediation was March 19, and he has conducted 64 since then with as many as seven parties. "I got up to speed on Zoom very quickly because I saw what was going on," he said. "Early on, some people were technically challenged. Because I have practiced so much I knew the workarounds, and the beauty of it is there's a workaround for everything."
As a Zoom booster, Steve most appreciates the platform's breakout room feature. Being able to invite participants into different sessions or rooms and visit them there makes it "as if I'm in a mediation and I go from room to room."
"Asked if parties were more disposed to settle based on the long-term uncertainty about when in-person hearing might resume, he said his before-and-after resolution numbers are virtually the same," the DBR article said on May 29. Steve also commented that he sees no difference in financial offers and counteroffers.
"There are definitely parties that are looking for, let's call it a sweet deal, because of what's going on, and those people are not going to settle their cases, and I would humbly suggest to you if they were in person they would not be settling their case either," he said.