Florida Mediators – Orlando Mediation – About Us
We invite you to browse our site to learn more about our firm, our practice areas, and our distinguished panel of neutrals. Collectively, we share hundreds of years of alternative dispute resolution service and stand as one of the oldest fully dedicated ADR firms in the nation. Facilitating reasonable reconciliations to resolve complex civil disputes is our singular mission and purpose, and the members of firm have served as trail blazers in establishing the processes to achieve that goal.
In 1988, the state of Florida took the bold step of statutorily authorizing its trial court judges to procedurally require parties in litigation to participate in mediated settlement negotiations as a condition prerequisite to completing the trial process. The founders of Upchurch Watson White & Max, already heavily involved in the Florida trial court arena as judges and practitioners, embraced the new "court annexed mediation" initiative and rapidly became statewide leaders in the emerging alternative dispute resolution movement. Among the first mediators certified by the Florida Supreme Court that year, they became deeply involved in Court Committees developing procedural rules, ethical standards, and training guidelines. As their own level of experience grew with rapidly increasing caseloads, the firm's principals also developed and administered private training programs which both increased the base of Florida mediators and helped spread the practice throughout the United States. Over 8000 mediators have now been certified in Florida where mediation has become a cornerstone in the state judicial system and Upchurch Watson White & Max is still recognized as a leader in the movement.
Indeed, Upchurch Watson White & Max mediators today enjoy a robust practice not only in Florida, but throughout the southeastern United States and nationwide. In addition to mediation, firm members provide a full range of dispute resolution services including system design, dispute review board functions, arbitration, special master, magistrate, and private judging. We welcome the opportunity to serve you and your clients in any capacity required to reach a reasonable reconciliation to resolve dispute.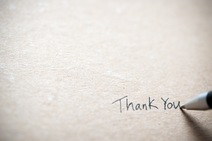 Not that long ago, each Upchurch Watson White & Max office kept its own "book of appreciation," usually a ring binder collecting paper-and-ink messages from the attorneys and parties we've assisted over the years. These were usually displayed in our lobbies. Those were the days when a hand-written note was not out of the ordinary.
Now we find we are receiving emails that express similar thoughts, and we wanted to anonymize them and present them to you electronically, in case you wondered what our clients think of our work in settling disputes and keeping them out of court.
---