Mediator Scott Baughan to Discuss Zoom Mediation for Society of Settlement Planners on June 4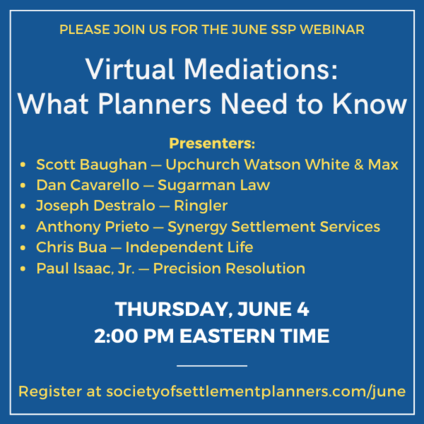 "In this bizarre world that we are all experiencing, a new and potentially game-changing mediation process has emerged....the virtual mediation!" That's how organizers for the Society of Settlement Planners' June 4 webinar describe their topic.

UWWM Mediator Scott Baughan will be a panelist as the SSP explores many of the current and potential long-term implications in "Virtual Mediations: What Planners Need to Know," the group's first monthly webinar presentation of 2020 on Thursday, June 4, 2020, at 2 p.m. ET. Scott is likely to opine on whether this type of mediation will stop in the near future or will have staying power and the precautions that might be in place for in-person mediations going forward. He may also be asked if he sees changes in the settlement values from live to virtual and if the negotiating is harder or easier.

The panel also will include plaintiff- and defense-oriented settlement professionals who have experience with the process and another mediator to add insight and opinions from their perspective. The panel will discuss the "new mediation" and "its differentiators and potential long-term effects inside the ever-changing world of personal injury litigation."

Aside from Scott, who has been a mediator since 2005 and joined Upchurch Watson White and Max in 2017, the panel includes Dan Cavarello of Sugarman Law Firm, Joseph Destralo of Ringler, Anthony Prieto of Synergy Settlement Services, Chris Bua of Independent Life and Paul Isaac Jr. of Precision Resolution.

The webinar is open to SSP and non-SSP members.