Mediator Cristina Maldonado to Present Zoom 'Lunch & Learn' for Palm Beach Hispanic Bar Association
Mediator Ana Cristina Maldonado continues with a series of educational presentations on April 28, 2020; this one is a virtual Lunch & Learn on how to use Zoom for the Palm Beach County Hispanic Bar Association.
It is a free program, but space is limited. Registration at https://us02web.zoom.us/meeting/register/vJIsf-GgrjMi21iG2LFQdu91WLWJE1tMjQ is required. The presentation, beginning at noon, takes the form of a Zoom meeting.
Earlier this month, Cristina presented a similar program, titled "Zoom! Zoom! Zoom!" for her alma mater, St. Thomas University School of Law. She plans two or three more presentations for Florida organizations on the Zoom topic, incorporating updates to the platform with each talk.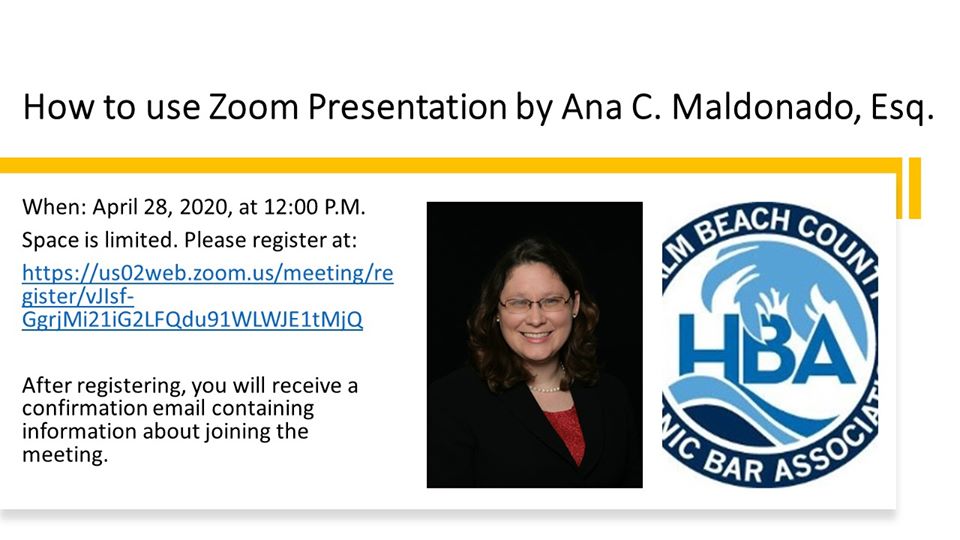 A. Cristina Maldonado will speak for a Palm Beach County Hispanic Bar Association Webinar on April 28.
A flyer promoted Ana Cristina Maldonado's talk earlier this month