Mediator/Arbitrator Howard R. Marsee Writes on History of Professionalism 'Movement'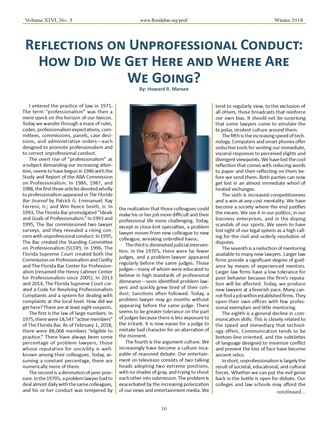 Howard R. Marsee, mediator, arbitrator and special master with Upchurch Watson White & Max, has contributed an article titled "Reflections on Unprofessional Conduct: How Did We Get Here and Where Are We Going?" to the winter 2018 issue of The Professional, a triannual publication of the Henry Latimer Center for Professionalism of The Florida Bar.
In the article, downloadable from our Website here, Howard recalls a time when professionalism was not much discussed by members of The Bar. "The overt rise of 'professionalism' as a subject demanding our increasing attention, seems to have begun in 1986 with the Study and Report of the ABA Commission on Professionalism," he writes.
Since then, he says, our culture at large and in the legal community has developed in eight ways -- and devolved in some cases -- making it important to reexamine how young lawyers learn about professionalism and how standards of professionalism are upheld throughout their legal careers. "We must produce graduates and lawyers who skillfully communicate, engage without acrimony in reasoned debate, and who possess a deep appreciation of our system of justice as a high calling."