Mediator Donald J. Weidner adds to his list of published works with 2018 edition of RUPA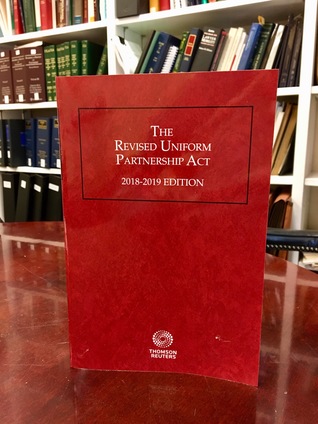 Don Weidner, a UWWM mediator/arbitrator and dean emeritus of Florida State University College of Law, has added another scholarly work to his CV: He has published the 2018 edition of The Revised Uniform Partnership Act (with Bob Hillman and Allan Donn) (Thompson Reuters). Don was the Reporter for RUPA, which has been adopted by a majority of the states, including Florida.
Other recent works include:
Leaving Law Firms with Client Fees: Florida's Path for the December 2017 edition of The Florida Bar Journal, exploring who has a right to fees ultimately paid when attorneys exit their firms with clients in tow. The article is cited as Leaving Law Firms with Client Fees: Florida's Path, 91-10 Fla. B. J. 9 (2017).
"New FASB Rules on Accounting for Leases: A Sarbanes-Oxley Promise Delivered," which appeared in the spring 2017 edition of The Business Lawyer, published by the Business Law Section of the American Bar Association. In it, Don explains the 2016 rules the Financial Accounting Standards Board crafted that affect virtually every firm that leases assets "such as real estate, airplanes, and manufacturing equipment." They are the result of a discovery more than a decade earlier that there could be about $1.25 trillion in "non-cancellable future cash obligations committed under operating leases" hidden in the notes to firms' financial statements.
Don continues to teach, in addition to his work as a neutral with Upchurch Watson White & Max. His upcoming UWWM Webinar, "Major Issues in Limited Liability Companies," is scheduled for noon to 1 p.m. Wednesday, Dec. 19, 2018. At last count more than 175 attorneys had signed up for the complimentary Continuing Legal Education program.
Earlier, he presented two Webinars on the same topic he covered for The Florida Bar Journal -- one for the Young Lawyers Division of The Florida Bar titled "Exiting Law Firms with Clients in Tow" in August 2017 and one for Upchurch Watson White & Max's CLE series titled "Leaving Law Firms and Taking Clients: Florida Emphasis and National Perspective" in March 2017.
A recognized authority on partnerships, closely-held businesses and real estate finance, Don also has written numerous articles on pass-through taxation, on capital accounts in limited liability companies and in partnerships, and on complex leasing arrangements. He has for decades taught real estate finance and other business and property classes. He also teaches Alternative Dispute Resolution.