FLABOTA Bestows 2019 Joseph P. Milton Professionalism and Civility Award Upon Mediator Robert A. "Bob" Cole
Mediator Robert A. "Bob" Cole recently received the 2019 Joseph P. Milton Professionalism and Civility Award from the Florida Chapters of the American Board of Trial Advocates at its Annual Convention/Board Inauguration Chapter Leadership & CLE Program in Orlando.
Bob, a shareholder with Upchurch Watson White & Max Mediation Group and longtime ABOTA enthusiast, was awarded a similar honor -- the Joseph P. Milton Civility Award -- at the end of 2018 by his local chapter in Jacksonville. In winning the statewide award, he has satisfied its criteria:
Conducted himself with professionalism, civility and the highest degree of ethics, always exhibiting integrity, honor, courtesy and a sense of fair play.
Educated the public about the civil justice system and the rule of law.
Contributed his skill, knowledge and efforts to enhance and educate the profession.
Demonstrated a commitment to serve others.
FLABOTA established the award, which is given annually, in 2012 in honor of its now deceased former president, Joseph P. Milton, who became known for his service to the organization and his high standards of professionalism, civility and ethics. This year's award was presented in late July at the Four Seasons Resort Orlando at Walt Disney World, and Bob was not the only Jacksonville honoree of the evening.
"It's the first time in the state organization's history that a single jurisdiction has received every award," ABOTA Jacksonville Chapter President James D'Andrea told the Jacksonville Daily Record. Bob's fellow winners were:
Pajcic & Pajcic partner Curry Pajcic, Trial Lawyer of the Year.
Retired 4th Circuit Judge Peter Dearing, Jurist of the Year.
Gunster shareholder Michael Freed, Fran Peacock Coker Community Service Award.
"In addition, R. Scott Costantino of The Costantino Law Firm in Jacksonville was sworn in as incoming president of the state organization's board of directors," Max Marbut wrote for The Daily Record.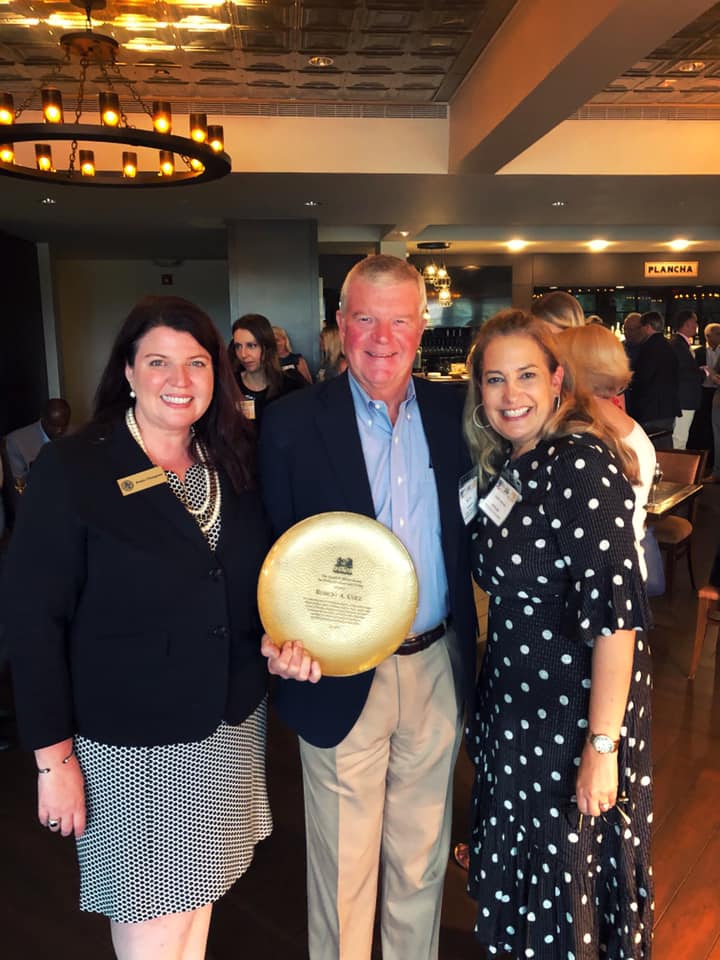 Bob Cole is flanked by fellow UWWM mediators Renee Thompson, left, and Brenda Newman.