2018 Is Summer of Honors for Upchurch Watson White & Max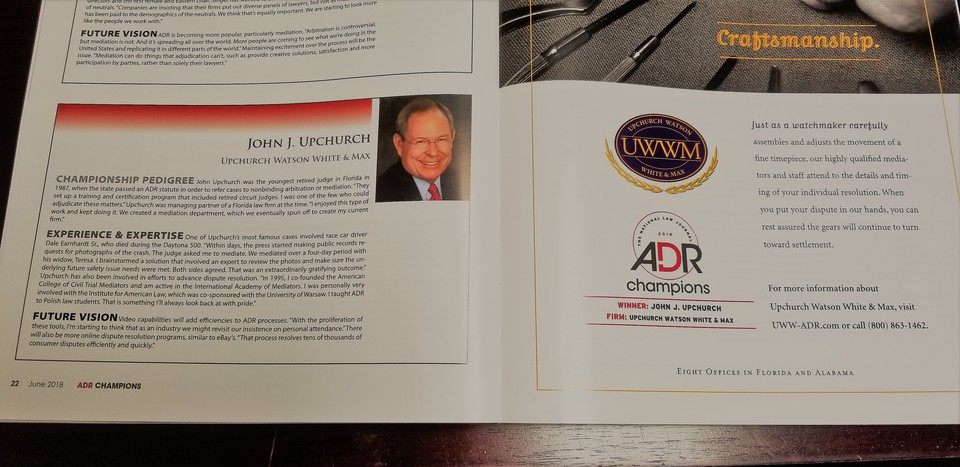 John J. Upchurch's profile in June's ADR Champions publication.
It all started when we learned John J. Upchurch, CEO and a founding principal of Upchurch Watson White & Max, had earned a place among the 46 mediators featured in The National Law Journal's 2018 ADR Champions. Of course, we think all 40 of our mediators deserve to be among that number, but one step at a time.
And we think John is one in a million, but, considering there are 5,682 state Supreme Court Certified Civil Circuit mediators in Florida alone -- and only a few of those were listed in ADR Champions -- this is quite an achievement.
The spectrum of honorees also included one of our newest panel members, April Y. Walker. After April joined our ranks on June 1, Florida Trend magazine named her a Legal Elite attorney in the commercial litigation practice area.
Also in June, Super Lawyers listings were published, and we had an unprecedented number of attorney-mediators represented. Firm Principal Lawrence M. "Larry" Watson Jr. has made the list most frequently, consecutive years from 2006 through 2018. Lawrence Kolin was added to the list most recently, in 2017, and he was named for a second time this year.
The other 2018 Super Lawyers honorees were:
Rodney A. Max, principal: Multiple selections since 2008
Robert A. Cole, shareholder: Multiple selections since 2007
George M. "Marty" Van Tassel, Jr., shareholder: Annually since 2008
Arthur J. Hanes, Jr.: Annually since 2012
Steven Jaffe, who also joined the firm in 2018: Annually since 2014
Renée Thompson: Annually since 2009.
Twenty-three members of our panel also are currently rated AV (also known as AV Preeminent, the highest level of the rating system) by Martindale-Hubbell® (https://www.martindale.com/ratings-and-reviews/). They are:
John J. Upchurch
Lawrence M. "Larry" Watson Jr.
Terrence M. "Terry" White
Rodney A. Max
Michael B. Walls
Judith A. Bass
Dominic Brandy
Robert A. "Bob" Cole
A. Michelle Jernigan
George M. "Marty" Van Tassel, Jr.
Brad Wash
Theodore Babbitt
John Briggs
Alvin Capp
Ricardo J. Cata
Samuel L. Heller
Steven R. Jaffe
Lawrence Kolin
K. Judith Lane
Shelley H. Leinicke
Howard R. Marsee
Brandon S. Peters
Richard Reinhart
The summer isn't over yet! We will have more good news to report after the Aug. 15 embargo on Best Lawyers recognitions lifts.