UWWM Sponsors Florida Supreme Court Historical Society Annual Dinner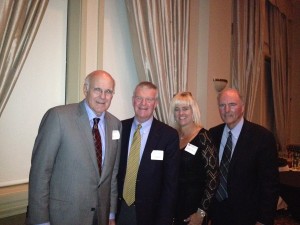 Upchurch Watson White & Max was one of the proud sponsors of the January 31
st
Florida Supreme Court Historical Society Annual Dinner. The year's event, held at the University Center Club in Tallahassee, honored former Governor Reubin Askew with the Society's Lifetime Achievement Award. The award was presented by former Governor and United States Senator Bob Graham.
Presented posthumously with the Lifetime Achievement Award was W. Reece Smith, Jr., a lifetime FSCHS member who led the Society's mission over many decades as Trustee and Society President. Reece passed away on January 11.
The dinner also included reflections on the life of former Supreme Court Justice, Ben Overton by Justice Stephen Grimes. Justice Overton had been an Upchurch Watson White & Max panel member since 2003.
In attendance at this year's dinner was our firm's Jacksonville office representative, Bob Cole along with invited guests, Julian Proctor, Kathy Maus and Dave Dunlap (seen in photo).