Florida Hospital Ormond Memorial
On Sunday, July 22
nd
, the old and abandoned seven story Florida Hospital Ormond Memorial was demolished by just 150 sticks of dynamite.
The former Ormond Beach Memorial Hospital was brought to life in 1961 when Melvin Orfinger, a resident of Daytona Beach, along with other leaders in the community sought to transform cow pastures into a much needed hospital for the area.
Orfinger spoke to John B. Sterthaus about donating his 15-acre dairy farm. Sterthaus was an Ormond Beach City Commissioner at the time. The hospital opened up six years later with 100 rooms. Ormond Beach community members and the hospital's trustees raised $813,617.00 by 1963 and also received $2.4 million in bonds from the City of Ormond Beach.
The hospital took a few years to record a profit as it did not reach its 100% occupancy rate until 1973. This momentous occasion launched plans for an $8 million expansion in 1975 that resulted in the addition of 105 beds to the hospital as well as a Cardiovascular Disease Center. The hospital would eventually add a cardiac catheterization lab, Cancer Care Center and a Birth Care Center.
The hospital was vacated in 2009, nine years after Memorial Health Systems merged with Adventist Health Systems to create Florida Hospital Memorial Medical Center.
Michael Orfinger, UWWM mediator and son of Melvin Orfinger commented, "What was once known as Ormond Beach Memorial Hospital was very much my father's dream. He gave freely of his time, his expertise, and his labor to ensure that the hospital came into being."
The decision to demolish the building came when hospital officials were unable to find a buyer.
"There is always something to be said for building something new and better, but watching the building that housed my father's dream implode was bittersweet indeed," said Orfinger.
---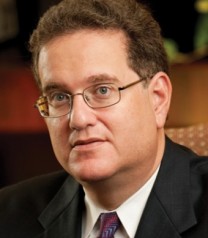 Michael S. Orfinger is a principal mediator at the firm of Upchurch, Watson, White and Max. For more information visit
Michael S. Orfinger's
biography.
---