Who's Who Legal Recognizes UWWM as Leader in Florida Mediation
Of eight mediators recognized in the recently distributed Who's Who Legal: Florida 2020, three are principals of Upchurch Watson White & Max. Who's Who Legal, which is published by Law Business Research Ltd., an independent London-based group providing research, analysis and reports on international legal services, introduces the chapter by saying UWWM "demonstrates a strong position in the Floridian market."
Also this year, the directory included UWWM among only four listed U.S. mediation firms, mentioning the same three mediators:
John Upchurch "receives sterling recommendations for the rigorous knowledge of the law he brings to commercial mediations, having previously served as a circuit judge in the state of Florida" and "is hailed as 'an excellent mediator' and is well versed at resolving multiparty disputes, including construction defects and medical malpractice issues."
Lawrence Watson Jr "excels in complex, multiparty commercial and construction disputes, acting exclusively in a litigation and ADR capacity for a range of clients" and "is considered 'a top-notch dispute resolutions specialist' with more than 50 years of experience as a mediator and third-party neutral in a wide variety of disputes."
Rodney Max "has built a stellar reputation in mass torts and class action mediations in commercial and consumer disputes" and "is highlighted for his four decades of experience as a third-party neutral and mediator in state and federal class actions involving personal injury, wrongful death and property damage issues."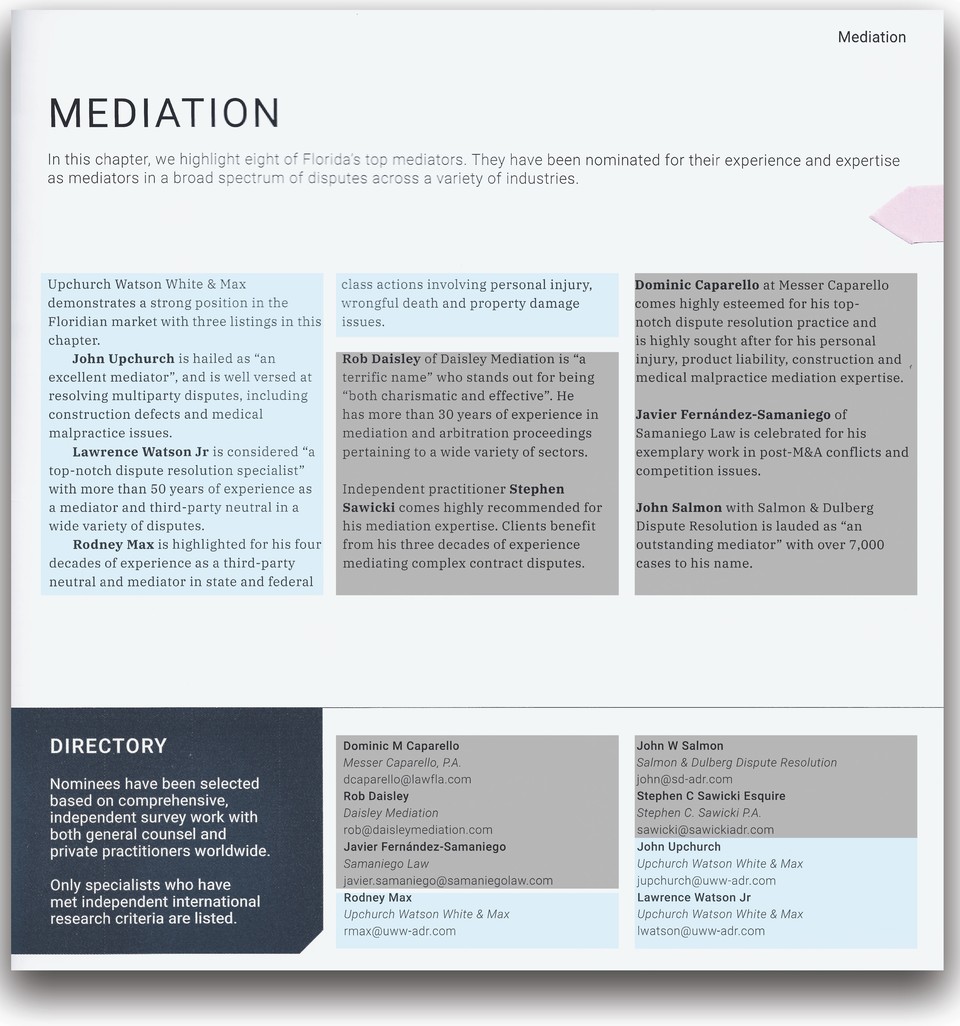 Page 27 in Who's Who Legal's look at the Florida legal industry for this year.