UWWM Repeats Its Tier 1 "Best Law Firms" Ratings for Mediation/Arbitration
WASHINGTON – Nov. 5, 2020 – U.S. News & World Report and Best Lawyers® collaboratively announced the release of is "Best Law Firms" rankings, including Upchurch Watson White & Max Mediation Group as a Tier 1 firm for several specialties in four different metropolitan areas.
Specifically, UWWM achieved Tier 1 rankings for arbitration and mediation in Birmingham, Ala., and Orlando, Fla., metros and for mediation in the Miami-Dade, Fla., metro. Additionally, the firm was awarded a Tier 2 ranking for mediation in the Fort Lauderdale metro. The report also mentions a Tier 1 ranking for appellate practice in Fort Lauderdale and Tier 3 ranking in product liability litigation (defendants), likely because UWWM panel members had been prominent in those practice areas before turning to dispute resolution full-time.
The 2021 Edition of U.S. News – Best Lawyers "Best Law Firms" recognized firms for the 11th consecutive year for professional excellence with consistently impressive ratings from clients and peers. To be eligible for a ranking, a firm must first have a lawyer recognized in The Best Lawyers in America©, which recognizes 5 percent of lawyers practicing in the US, according to a press release announcing the rankings. "Achieving a tiered ranking signals a unique combination of quality law practice and breadth of legal expertise."
The 2021 rankings mark at least the fourth time UWWM has received Tier 1 rankings, "based on the highest lawyer and firm participation on record, incorporating 8.3 million evaluations of more than 110,000 individual leading lawyers from more than 22,000 firms."
Ranked firms, presented in three tiers, are recognized on a national and regional-based scale. Firms that received a tier designation reflect the highest level of respect a firm can earn among other leading lawyers and clients from the same communities and practice areas. Awards were given in 75 national practice areas and 127 metropolitan practice areas.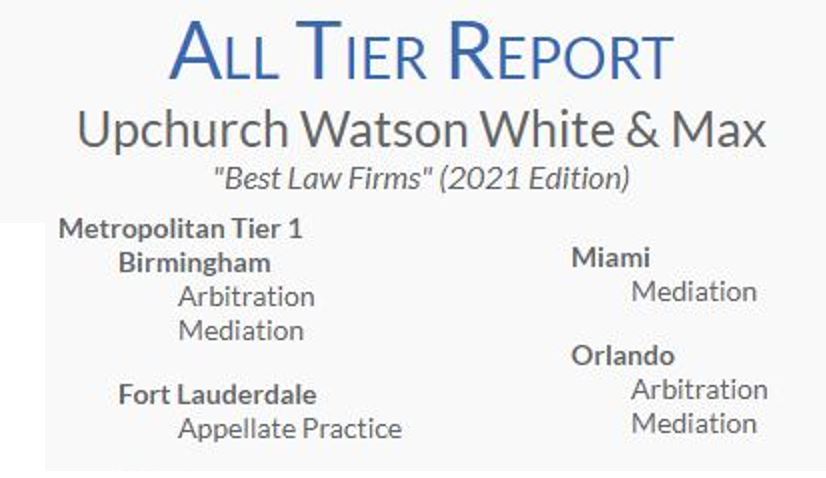 Upchurch Watson White & Max reports its Tier 1 rankings.