Gainesville Mediator Carl Schwait Receives Florida Bar Humanitarian Award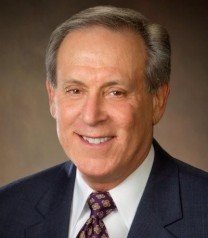 Carl Schwait, an Upchurch Watson White & Max mediator based in North Central Florida, recently received The Florida Bar's G. Kirk Haas Humanitarian Award at the Bar's annual convention in Boca Raton.

Mr. Schwait, a mediator since 2015, had retired from active litigation and as a senior and managing partner for Dell Graham, P.A. in Gainesville. He also has just retired as a member of The Florida Bar's Board of Governors, which he has served since 2005.

William J. Schifino, Jr., the outgoing president of the Bar, who presented the award, praised Mr. Schwait's "unending commitment to the legal profession, our system of justice and the citizens of our state." Schwait served on four Board of Governors committees this year: as chair of the Board Review Committee on Professional Ethics − a position he has held six times − and on the Executive Committee, the Communications Committee and the Strategic Planning Committee.

Mr. Schwait also is a professor at the University of Florida Levin College of Law and remains a leader in the Eighth Judicial Circuit Bar Association.

Kirk Haas practiced law in Miami and was recognized for his humanity, legal ethics, skill and professionalism. The G. Kirk Haas award was established in 1998 by then-Bar President Edward R. Blumberg, to recognize a Florida Bar member for meritorious service to the legal profession.

The award recipient is selected by the president of The Florida Bar. The recipient then selects a Florida law school, and a scholarship is awarded to a second-year student who demonstrates an exceptionally high degree of integrity, ethics, professionalism and concern for others. Its inscription reads: "This award recognizes the unique human qualities that we all strive to attain but very few achieve. These include an abiding respect and caring for others, coupled with the ongoing demonstration of actual deeds of legal services with no reward beyond that of the deed itself. Carl B. Schwait is one of those rare individuals who possesses those special qualities and, by this award, he is so honored."
###
P R E S S R E L E A S E
Upchurch Watson White & Max
125 S. Palmetto Avenue
Daytona Beach, FL 32114
800-264-2622
Catherine Klasne (cklasne@uww-adr.com )
For Immediate Release