Rodney A. Max
Principal
Rodney A. Max has led more than 5,000 mediations arising from more than 12,000 cases for matters including wrongful death, personal injury, breach of contract, insurance disputes, antitrust, mass and class action issues involving products and services in all consumer areas, patent and trademark infringement, employment cases, family and decedent estate issues, fraud and negligence, health and general commercial liability insurance coverage cases and more. He has practiced since 1975, including representation of plaintiffs and defendants in breach of contract, fraud, commercial products liability, lender liability, mass and class actions and other statutory remedies.
Mr. Max has been selected and/or court appointed as a third party neutral or mediator in a number of significant state and federal mass and class actions involving personal injury, wrongful death and property damage claims. These claims have involved products, services, and/or consumer rights (e.g., privacy). The mass and class actions have encompassed areas of insurance, pharmaceuticals, transportation, environmental, computer, cell phones, and other technological issues.
He is a noted speaker on mediation and alternative dispute resolution topics, delivering his message to organizations throughout the country, including national and state bar associations and sections ~ on both sides of the trial aisle, as well as neutral groups. Among his published works: "Multiparty Mediation", The American Journal of Trial Advocacy (volume 23, Issue 2, Fall 1999) and "Mediation: The Humanization of the Justice System Resulting in the Truest Equities Among the Parties" (The Alabama Defense Lawyer Journal, 1999). Mr. Max also has presented seminars on a number of his written articles, including "Designing the Mediation", "Goal Oriented Approach to Negotiations" and "Breaking Impasse".
Professional Education and Qualifications
B.A. (Political Science), University of Florida ~ 1970
J.D. Cumberland School of Law (cum laude) ~ 1975
Member: Cumberland Law Review
Member: Curia Honoris
Florida Supreme Court Certified Circuit Civil Mediator
Alabama State Court Mediator Roster
Neutral Panelist, U.S. District Courts of Alabama
Distinguished Panel of Neutrals, CPR Institute for Dispute Resolution
Mediation Panelist, Nat'l Assn. of Securities Dealers Regulation, Inc.
Honors and Memberships
Distinguished Fellow and Past-President ~ American College of Civil Trial Mediators
Super Lawyers, 2008-2020 ~ Florida and Alabama ~ As selected by legal colleagues
Best Lawyers in America ~ "Lawyer of the Year" in Mediation: 2010, 2013, 2021 (Birmingham); 2015, 2017, 2019 (Miami). Listed for Miami and Birmingham since 2006.
Member ~ Alabama Academy of Mediators
Member ~ Florida Academy of Mediators
NCCJ Brotherhood Award for Outstanding Community Service ~ 1998
"I Have A Dream" Award for Leadership in Civil Rights
United States Civil Rights Commission ~ Alabama State Advisory Committee ~ 1985-2000
B'Nai Brith Chapter President, Birmingham ~ 1976-81
Numerous elected and appointed positions in local, state and national bar associations.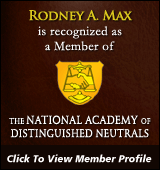 Rated Super Lawyer 2007 - 2020